Our Krav Maga program has 'Boot Camps' on occasion and they are Free!  We use these clinics for our students to augment their regular training with advanced techniques and to also introduce Krav Maga to new students. This months's  training will be on the tactical use and defense of a knife attack and Master Michael Brown wants you to be there!
The threat of a knife attack has always been a concern in America. Lately these attacks have been on the rise.  By NC law, as in most states, an attack with a knife is deemed deadly force and should be a concern to the average citizen. Whether you are concerned about a knife threat or you want to learn how to use a blade for personal defense, this might be the class for you. ATA Leadership Martial Arts and Krav Maga want their students to be prepared for this threat. This Tactical Knife course is a 'kill two birds with one stone' sort of course. During this training you will be able to learn knife survival which involves tactics and principles we use to survive a confrontation with an assailant armed with a knife. This would be for both offensive and defensive use of a blade. We will also cover the mindset of a knife attack and how to overcome this life threatening situation.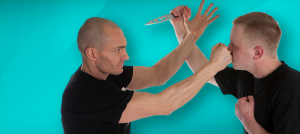 Please wear confortable workout clothes and non-marking athletic shoes. The course will be on July 28th and will start at 6:00 pm and end at 7:30 pm.
We are located at 3915 ramsey Street, Fayetteville NC.  This event is free but room may be limited. Please give us a call and register for this exciting course. Master Brown wants to see you there!
Michael Brown is a seventh degree black belt and Senior Master Instructor of Taekwondo.  He is also been a certified instructor in Krav Maga for over 16 years. He is a two time world champion in sparring and a former Captain in the United States Marine Corps.  He is a fire arms safety expert who trains individuals in concealed and carry tactics.  Michael Brown has been working with families and training people in personal defense in North Carolina for over 27 years. He and his wife,  Kimberly Brown love working with military personnel, law enforcement and civilians to become combat ready and helping them develop skills that will enable them to be the 'First Responders' for their families.