Leadership Krav Maga will be hosting an Active Shooter Seminar on October the 27th at 6:00 to 8:00pm. Our event will be held at our studio, 3915 Ramsey Street in Fayetteville, NC. This event is free and open to the public but space will be limited.  Please call us at 910-822-5425 to register for this training.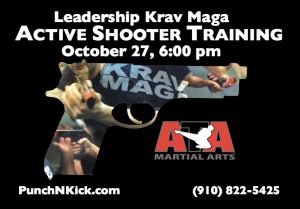 Active Shooter
The FBI defines an active shooter as "an individual actively engaged in killing or attempting to kill people in a populated area".  They go on to say that, "Recent active shooter incidents have underscored the need for a coordinated response by law enforcement and others to save lives."  That is where we come in. It is our goal to partner with schools, workplaces, houses of worship and other venues to train individuals and teams how to react in the stressful environment of an Active Shooter. There is something you can do!
Our training will allow you to be able to save lives in the event of an active shooter.  We will cover all options open to the defender such as improvised weapons when in a 'No Carry' zone or bringing your own firearm to bear. Come and join us this month and learn to become the 'First Responder' for your group.
About The Instructor
Michael Brown is a seventh degree black belt in Taekwondo. He has been serving his community in self defense training for over 27 years. Michael enjoys working with Military, law enforcement and civilians.  He is also a certified instructor under both Krav Maga Worldwide and Warrior Krav Maga. Michael is a two time world champion in sparring and a former Captain in the United States Marine Corps. He is also a firearm safety expert. Michael trains individuals in both concealed and carry techniques and in handgun safety. He enjoys teaching alongside his wife Kimberly and son Michael. They have a goal to help you to become combat ready. Teaching you skills that will enable you to be the 'First Responder' for your family.
Leadership Martial Arts & Krav Maga serves the communities of: Fayetteville, Hope Mills, Spring Lake and Linden NC
Check out our Facebook pages at Leadership Krav Maga and ATA Leadership Martial Arts