Firearm Safety And Dry Fire Training
Firearm Safety & Self Defense Training 
June 17th, 6:00pm to 9:00pm
Call us at 910-860-5425 to register today
Getting Started, a Refresh or Want To Improve Your Skill Set?
We believe safety is #1 and we want you to feel confident with handling and shooting a firearm in a safe and confident manner. 
Some of our students have purchased hand guns and never taken them out of the box.  Their confidence in their ability to operate their firearm safely simply was not there.  On the other side of the coin we have had senior adults who had fired weapons in the military but needed a refresher course to have the confidence to utilize a handgun for home or personal defense. Some students even have received their Concealed and Carry license but do not have the comfort level to handle their weapon safely.
We utilize the Go2FS Adaptive Training Pistol, which are exact replicas of the semi-automatic Glock 17.  These adaptive air pistols and our training provide a safe environment in which to build muscle memory for firing a hand gun and help keep students skills on target.
Michael Brown Will Take You Through
Our Go2Safety Brief Class & Dry Firing Class I:
Each student will be provided a Go2FS Adaptive Training Pistol
This course teaches participants firearm safety and dry firing that includes classroom and dry-firing time
Students learn rules for safe gun handling, pistol parts, operation and mechanics
Tools for developing a stronger shooting skill set
How to spot negligent handling of a firearm
Reloading and Malfunction Clearing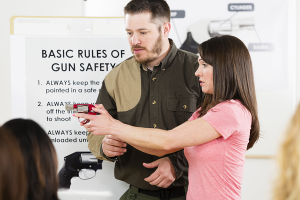 Gun safety rules and recommendations are intended to avoid accidental discharge or negligent discharge, or the consequences of firearm malfunctions.  Our training is meant to avoid these things while you learn handgun skills in a safe comfortable environment.  After this course you should have the comfort level and the skills to utilize your firearm at a gun range or to utilize it for home defense.
Take a CLASS and SEE Why So Many People Recommend Our 
Dry-Firing Course! 
 Date:         Friday, June 17th
Time:        6:00pm-9:00pm
Location:  3729 Sycamore Dairy Road, Fayetteville, NC
Price:        $79
Call us at 910-860-5425 to register today.  We only have 12 spots open for this course.
More practice equals more skill that creates muscle memory
Dry work with a Go2FS Adaptive pistol can be accomplished in your own home and with no expenditure of ammunition, so there is very little recurring cost.  You can order or purchase your own adaptive pistol from us. For this training, we will provide you with an adaptive pistol.  No material needed!
With the rising cost of ammunition, the lack of quality practice dry time and the burden of traveling to and from a live fire range many people get little practice time.
Dry work is actually a better way to ingrain many firearm safety skills without live fire, the shooter does not have the noise of a weapon's discharge, the noise of other shooters guns firing, flying brass and the  myriad of other distractions on a typical firing range.
Focused and well instructed dry work is an excellent way to learn the proper mechanics of shooting and is a critical part of being able to successfully defend yourself.
It is also the difference between winning shooting trophies and finishing at the bottom in competition results.
Like it or not, practice is a MUST to improve your shooting skills for self defense, every day carry or competitive shooting. But it does not have to involve throwing lead down range and spending a lot of money.
All the experts have proven, dry fire practice is an incredibly effective method for improving shooting skills, and it is much less expensive and time consuming than live fire practice.
Call Us And Get Signed Up Today!
910-860-5425
ATA Leadership Martial Arts and Leadership Krav Maga have several Firearm courses, College Bound Readiness, Every Day Carry Course as well as others.  Check out all your options at SEE MORE .
Michael Brown is a seventh degree black belt and Senior Master Instructor of Taekwondo.  He is also been a certified instructor in Krav Maga for over 15 years. He is a two time world champion in sparring and a former Captain in the United States Marine Corps.  He is a fire arms safety expert who also trains individuals in concealed and carry tactics.  Michael Brown has been working with families and training people in personal defense in North Carolina for over 25 years. He and his wife,  Kimberly Brown love working with military personnel, law enforcement and civilians to become combat ready and helping them develop skills that will enable them to be the 'First Responders' for their families.
Leadership Martial Arts & Krav Maga serves the communities of: Fayetteville NC, Hope Mills NC, Spring Lake NC, Linden NC
Learn more about our academy at PunchNKick.com.